I was twenty years old, and I was living alone in Kiev, Ukraine.
Not totally alone, of course. I was living with a young, Ukrainian couple who spoke English (but often refused to speak it because they wanted me to become fluent in Russian), but I didn't have any peers with me on the trip.
I was in Ukraine for two solid months before I even met another American. Looking back, I know this was a good thing. It forced me to adapt to the culture and the language, and it made me brave.
But I was lonely those four months. Trying to communicate in another language is exhausting. In the early days when I was completely alone, my only respite came from 3:00-4:00 in the afternoons after school.
I'd arrive home to an empty apartment and turn on the TV. Beverly Hills 90210 played weekday afternoons, and the translation lagged just enough behind the English that I could tune it out and listen to the show in my native tongue.
I never watched that show as a young girl, but I saw nearly every episode in Ukraine. I became well acquainted with Brandon, and Brenda, and Dillan, and Kelly, and all the others whose names I can't remember now…
Outside of riveting television, though, I found my greatest comfort inside the pages of my journals. I wrote until my hand hurt, recording everything from the mundane moments of my days to the hysterical gaffes I made (I slipped on ice and fell on my butt more than once rushing to and from school).
After a weekend excursion to Prague, I came home with an English language copy of the book Jane Eyre, which I'd found in a little store near Charles Bridge. I devoured that book twice in my remaining months in Ukraine, and suddenly my journal pages were filled with poetic imagery. I used language like, "the leaves dance to the ground in a silent waltz," and "the birds soar above my head on wings of freedom."
WHO TALKS LIKE THAT?!
Twenty-Year-Olds who have too much alone time, that's who.
It's been 18 years since that life-changing experience. 18 years since I sat on a bench on a Ukrainian hillside overlooking the Dnieper River, and vowed to become a storyteller.
The book that began simmering and bubbling in my heart all those years ago is now receiving rave reviews, and I still can't believe that dream came true.
But what's even more amazing is that it was just the beginning. That was only the first spark in my creative journey. It's been a slow burn, sometimes dimmed by the pressures of every day life.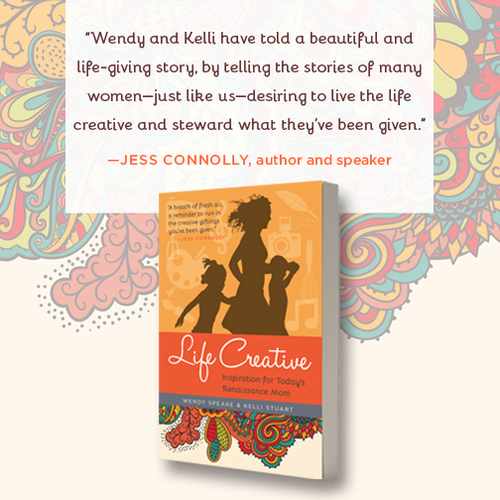 Motherhood slowed down the dream, but in a good way, because motherhood was a dream in and of itself. I'm living both dreams side-by-side, and it's a messy little blending of the two. But I wouldn't have it any other way, because this is better than anything I could have imagined 18 years ago as a lonely American student in Ukraine.
It's also harder than I thought it would be.
Beautiful. Hard. Messy. Dream.
Those words all fit together in this puzzle of life. They're tangled up, each piece getting its turn to take the spotlight.
In just one short month, my second book hits shelves.
Life Creative: Inspiration for Today's Renaissance Mom releases on September 27. This is a book written for moms who are walking the line between motherhood and art. It's a book for moms who had dreams long before they had children, and they want to know if it's possible to blend the two parts of themselves.
[Tweet "Life Creative celebrates moms fitting their inspired lives into the ordinary places of motherhood."]
Would you like to read an early release copy of Life Creative: Inspiration for Today's Renaissance Mom? The launch team is forming, and a PDF copy of the book is available for download for a limited time.
Click here to sign up for the launch team. You'll be sent instructions on how to download the book, as well as how to join a private Facebook group for launch team members.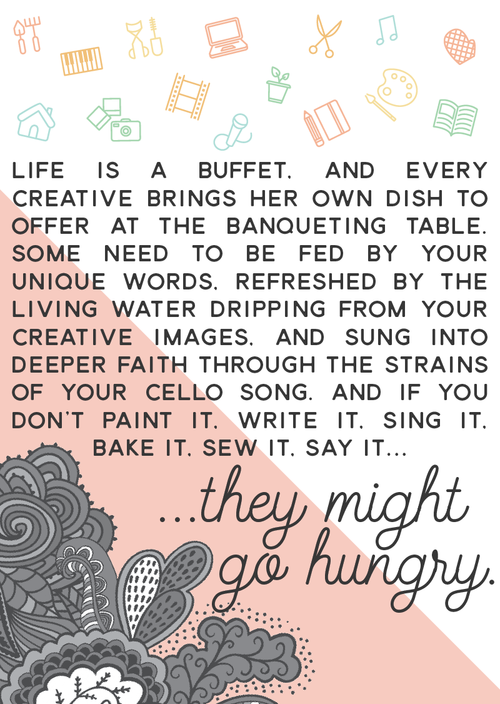 Creative moms are coming together and linking arms, all of us agreeing that this life creative is equal parts grand and exhausting. We'd love to have you join us as we bring this encouraging message to all the moms who remember dreaming on a hillside so many years ago.