I've decided that the conference life is not really for me. While mom-lady seems to be have a slam-bang time, I am more exhausted than anything else. Blogger ladies are noisy. They are also a verbose bunch, and when they all cackle at the same time it sounds like an explosion of joy, which one would think would be a delightful sound, but when you're in a dead sleep it sends you into spasms of fear.
There are a few pros to attending a conference with mom-lady, though. First, I have been held almost non-stop. Mom-lady has been the primary holder, but when her arms started to tremble under my weight, there were an abundance of other mom-ladies here who gladly offered to take me for her.
It's been a snuggle fest this week in Greenville, South Carolina. 
The other pro is that mom-lady finally started feeding me more. Maybe it was to shut me up. Hard to say. In any case, it's about time she upped the formula because I WAS STARVING TO DEATH.
Seriously – yesterday afternoon I almost died in the two minute that it took her to prepare my bottle. I saw my entire life flash before my eyes.
The cons lie firmly in the fact that I am exhausted. Just when I get into a deep sleep, the blogger ladies start applauding something or other, or someone starts playing music, or mom-lady decides to scratch her nose and jostles me awake.
The nerve.
It's been a lovely adventure, but I'm ready to go home. And judging by the way mom-lady and her friend seem to have lost their minds, I think it's time we all got back to normal.
My mom is strange.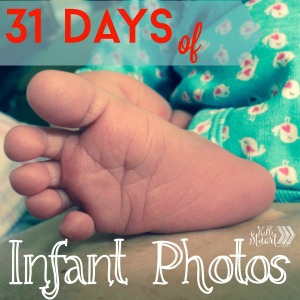 This month, I'm linking up with The Nester for this 31 Day series as I survive the newborn haze of sleepless nights, endless nursing, and squeezing in life in twenty minute increments throughout the day. If you want to receive the posts directly in your email inbox, just leave your email address in the box on the sidebar, and subscribe so you don't miss a post!
I'll share photos every day, some of them good, and some of them mediocre, because baby leaves me little time to worry about taking and editing the perfect photos.
I'll also be sharing my daughter's thoughts, as dictated to me telepathically while she nurses, because she has informed me that she is a mind ninja, and I am merely her portal to the outside world.
Her words, not mine.
*wink*