We are coming down off the mountain of Spring Break this week. It's been a truly lovely week together as a family, and I'm grateful for every moment of it.
I'm also grateful for the return of our routine.
One of the things Lee and I are working on is living life with intentionality. We have a lot of goals for our family – things we'd like to do and experience with the kids while they're all living under our roof.
Unfortunately, neither one of us are planners, so we tend to fly by the seat of our pants more often than not, and life is screaming forward full speed ahead. I'm starting to feel like we're going to miss it.
We have eight summer vacations left before Sloan goes to college.
E-I-G-H-T
Just typing that makes my heart nearly burst with trepidation. I don't want to miss a single opportunity to make memories with my kids, because the time is so short, and it goes by so quickly.
So we made a plan this year for Spring Break. Rather than sit around the house and kill brain cells watching the Disney Channel, we booked a few nights away in St. Augustine.
We ate too much, laughed a lot, broke up fights (apparently vacation is not a magic formula for keeping the smaller people from tearing each other's eyes out), and simply enjoyed being together as a family.
And now it's time to go back to school.
Vacation is fun, but so is routine. The return of routine is necessary to maintaining the peace and order inside the home. In the absence of routine, the natives become restless. And in the presence of all that togetherness, restlessness leads to mutiny.
I always have these fantastical ideas of what family together time should look like. And, indeed, most of the time our togetherness truly is fantastical. This past week, despite the arguments and the little sleep, we had a grand time. But was it fantastical all the time? Well, if you follow me on Facebook, you might think it was. But the truth?
All that togetherness was actually exhausting. It was a happy, poured out sort of exhaustion.
I returned home from St. Augustine feeling tired in a way that words can't really describe. It was a down deep in my bones sort of tired; an I'm-gonna-need-you-people-to-give-me-some-space sort of fatigue.
Here's the thing, though. I don't take pictures of those crazy moments when taking a family vacation seemed like a bad idea. I'm not going to take and post a picture of my children having a knock down, drag out fight. I won't post video of the multiple times Annika woke through the night because the room was cold, and the Pack 'n Play uncomfortable.
I don't talk openly about the rickety pull out couch I had to sleep on so I could be near the baby, while Lee had to try to sleep with a child who flails violently when she slumbers.
And I definitely didn't photograph the moment a glass got broken in the hotel room because people were fighting…again.
Those things happened. The few days were exhausting. But the fun outweighed the challenges. There was more laughter than there were tears. We were happy to be in one another's presence more than we weren't.
That's what it's like being part of a family. You love one another fully in the fun times. You tolerate one another in the challenging times. And you document the smiles and the laughter, so at the end of the day when those children leave the house and head to college, they can look back on the photos and remember the good times above all else.
Unless they read this blog post, the kids probably won't remember the broken glass, the tears of fatigue, or that moment when one of them climbed on top of the wall at the top of the Castillo de San Marcos, and I yelled in horror for him to get down prompting tears of embarrassment for yelling in front of all those people.
(Sorry again, kiddo. Mom panicked when she pictured you plummeting over the side to your death. Some day you'll understand.)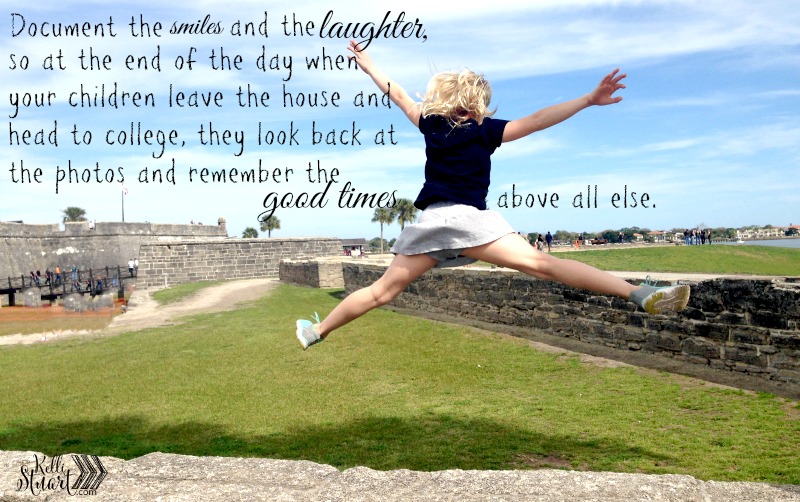 With any luck, our kids will look back on Spring Break 2015 and they will remember only the laughter. It will have been the best, greatest, most fun time we've had as a family. Because that's the story that the pictures tell.
The photos document the majority, and they shape the memories. Through them all the stress of family trips will fade away, leaving the good times highlighted.
This is part of intentional living.