I tiptoed down the stairs moving slowly and deliberately. Every once in awhile I'd freeze, certain I heard footsteps approaching, then resume my movement down this deviant path.
I'd laid in bed for a long time thinking about this. I'd tried to convince myself that I shouldn't do it, but the tug of curiosity outweighed reason, so I finally gave in to the temptation.
I approached the Christmas tree, it's piney scent strong and full in the dark room. Christmas morning was still a week away, but the urgency to know what was wrapped under the tree was more than I could handle. Reaching over to the lamp on the table, I quickly flicked it on, then swiveled my head down the hall toward my parent's room to see if they'd noticed.
When I was certain the house was still, I made my way to the large gift under the tree – the one with my name written on it. Very, very slowly I pulled back the taped sides, and I peeked beneath the wrapping to see what it was.
All these years later, I don't actually remember what the gift was that I peeked at in the dark. I must have been eight or nine that year, and I was certain that I couldn't wait all the way until Christmas morning to know what was in that mystery package.
One thing I do remember, though, is the disappointment. Not in the gift – I'm sure the gift was great. No, I was disappointed on Christmas morning because the thrill of opening the gift was gone. I'd peeked under the cloak of night, and with no one around to enjoy my delight, the magic of the moment disappeared.
If only I had waited.
"Therefore be patient, brethren, until the coming of the Lord. See how the farmer waits for the precious fruit of the earth, waiting patiently for it until it receives the early and latter rain. You also be patient. Establish your hearts, for the coming of the Lord is at hand." James 5: 7-8
I've been thinking a lot about waiting lately. Waiting is hard. It is as active as anything else we do in this lifetime.
Likewise, I've been wrestling through this idea of waiting when coupled with prayer. Both seem so easy, requiring little to no physical exertion, but paired together they can sometimes feel like an emotional marathon.
I don't want to wait; I want to know right now. I want to see beneath the wrapping, just a tiny glimpse of the waiting gift. I want to assess if I'll even like that gift with my name on it. I want, I want, I want…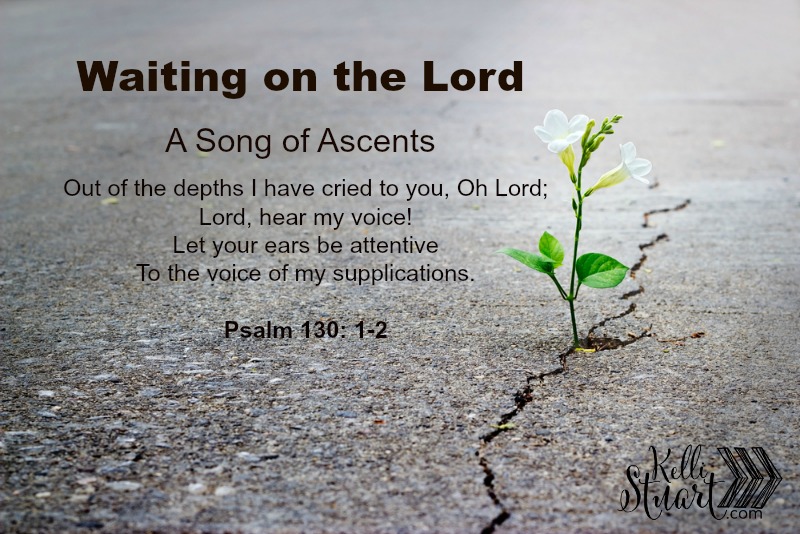 Waiting on answered prayer makes me feel like the little girl lying in her bed, wondering and wishing she knew what was on the other side of Christmas morning. I cling tight to the hope and dream of seeing this desire of the heart answered while also wrestling fear that I will never see the other side of this waiting.
Sometimes I pray as though it is a magic potion, an incantation that will produce immediate results. Most often, these prayers that I pray are good prayers. They are in line with God's character, and with His spoken desire for His people. I'm not praying for a new car or a better life. I'm praying for healing, for restoration, for reconciliation, for the fulfillment of His goodness here on earth.
But the waiting part? I'm afraid I'm still not very good at it. 
There is a frustration that can creep up when waiting on an unanswered prayer. We speak our words of petition into the quiet sky and watch as those heart longings drift up into the void, and we wonder if it even means anything. 
Maybe you, like me, are waiting for an answer to a deep, heartfelt plea. Can I offer you this encouragement?
Keep waiting. Don't give up hope. Hope is Slow, after all, but it's real.
And while you wait, watch for the little ways that the Lord is reminding you of His goodness. See the ways He's showing you that He's still at work, even if it feels so very silent.
[Tweet "Keep waiting. Don't give up hope. Hope is Slow, after all. A post on Waiting and Prayer."]
And whatever you do, try not to take matters into your own hands. Don't look for a peek at the gift that's waiting. It just may taint the glory of the surprise.
Trust me, I know.