I spent the better part of two days last week tearing my house apart.
I was on a search for a photo. I could see the picture in my mind, but it wasn't any of the places I imagined I would have put it. The up side to all this searching was the natural consequence of cleaning out drawers that desperately needed to be cleaned.
I finally decided to check the attic, even though I knew for certain the photo couldn't be up there. Hadn't I seen it recently?
I opened the first album I found and gasped. There she was, just as I remembered her, staring up at me with those kind, smiling eyes.
Ladies and gentlemen, I would like to introduce you to the real Maria Ivanovna.
Maria's story is fictionalized in my novel, though of all the storylines, hers stays truest to the real life plot. Some of it is fictionalized based on other stories that I gathered, but the skeleton of the entire book started with this woman right here: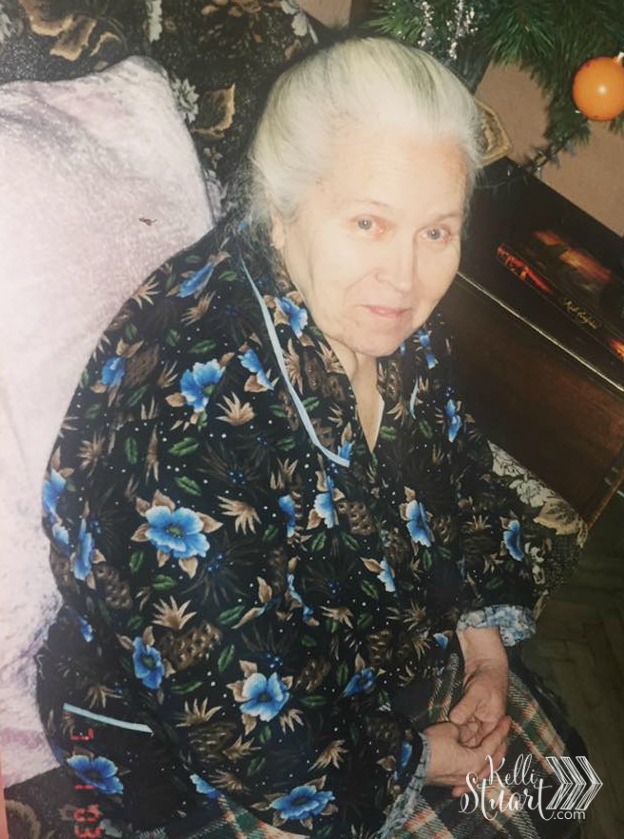 Isn't she just lovely?
And as I mentioned in the post about Baba Mysa, that character was also a composite of this real and lovely woman who entrusted me with her story so long ago.
After I found this one photo, I was hungry for more, so I reached out to my dear fried in Ukraine, who also happens to be Maria's granddaughter, and I asked for more photos.
Alyona took me into her home when I was 20 years old, and she gave me her bedroom for four months so that I could study Russian. Every day, I'd walk from her little apartment on Shamrila Street to the train station, and I'd make the hour long trek to the Institute of Foreign Languages for my classes.
It was one of the grand adventures of my life.
The photos Alyona sent me brought tears to my eyes, because they brought not only the character of Maria Ivanovna to life, but they also gave me more of a visual for the real Maria.
It's easy to forget sometimes that history is real people. It isn't just stories. When we're so far removed from an event that is now immortalized in film, television, and history books, we overlook the before and after of all this history.
Maria had a history before the Germans forced her into slave labor, and she had a future after she returned. She was more than the moment of her captivity. She was real, and she was a delight.
The final picture I found was taken on the night that I met Maria face to face. It was 1996, and we were in Kiev, Ukraine. I had been invited to have dinner at Maria's place, and while there, she shared her full story with me.
That was the birth place of Like a River From Its Course.
Now, before I show you this picture, I would like to sincerely apologize for what I'm wearing. I don't ever remember owning such a sweater. It appears I let Mr. Rogers dress me for that evening.
You've been warned.
History is real people, and as you read my book, I hope you will remember that these are more than just stories. These were lives. These were men and women who refused to be defined by one moment in time.
In the wake of all that's occurred in our own country this week, it's good to remember that we are more than one horrific event. We can still learn from history. We can honor the fallen, pick up the pieces, and refuse to be defined by that terrifying moment.
History is real people, and history is happening even today.

Like a River From Its Course is now available wherever books are sold!* Amazon has started shipping books early, so if you want your copy fast, I'd start there.
Also, if you've read the book, would you be so kind as to leave a review on Amazon or Goodreads? Those are kind of a big deal. *wink*
Thanks, everyone!
*affiliate link included