As I sit here at the computer, my fingers hovered over the keys, I feel the weight of the silence pushing me from all sides. In a house full of children, silence is golden, right? Maybe. Or maybe not.
Those golden moments are precious, and I soak them up. But in the soaking, I want also to be productive. I've found that I better serve my family in the bustle. Cleaning the kitchen, folding laundry, straightening up rooms here and there – all of these tasks are more enjoyable to me as I float them in with the every day noise.
But the silence? I want to bottle it up.
I long to use these whispered minutes of my day to create, to feed the writerly part of my soul. And yet recently, when the quiet comes I find myself paralyzed, all the words bottling up instead of spilling out.
It feels forced right now. I'm pushing out the stories because I need to, and yes I want to, but the inspiration is lacking. I watch the clock tick away the silence, and I know the noise is coming back, and I want to make my fingers dance so that I can capture the words before they thunder through me.
But there is no thunder, and that is the problem.
Some call this writer's block, and maybe it's a touch of what I have. But more than that, it's a paralysis of creative power. Because I'm so hell bent on writing words that matter, stories that resonate, characters that sing, and blog posts that people want to read that I've stripped myself of all inspiration.
And so I stare at a blank screen and will the words to come. The good words. Meaningful words that people could share. Instead, my eyes get tired, and I shut it down and stare into the silence until a baby's cry slices through it.
I don't quite know anymore how to write a book that will sell. I can't figure out what publishers want, and I scratch ideas onto a pad of paper, then scribble through them because they sound contrived. Nothing is fresh, but rather my muddled mind screams IT'S ALL BEEN WRITTEN!
It's true. The publishing industry acknowledges that "there's nothing new under the sun," and so we writers simply try to give a new spin on an old tale.
And the blogging. Oh, the blogging. So many words already written, and so many of them are good. They're really, really good. I read the words and I wonder what else there is to say. So my fingers keep hovering.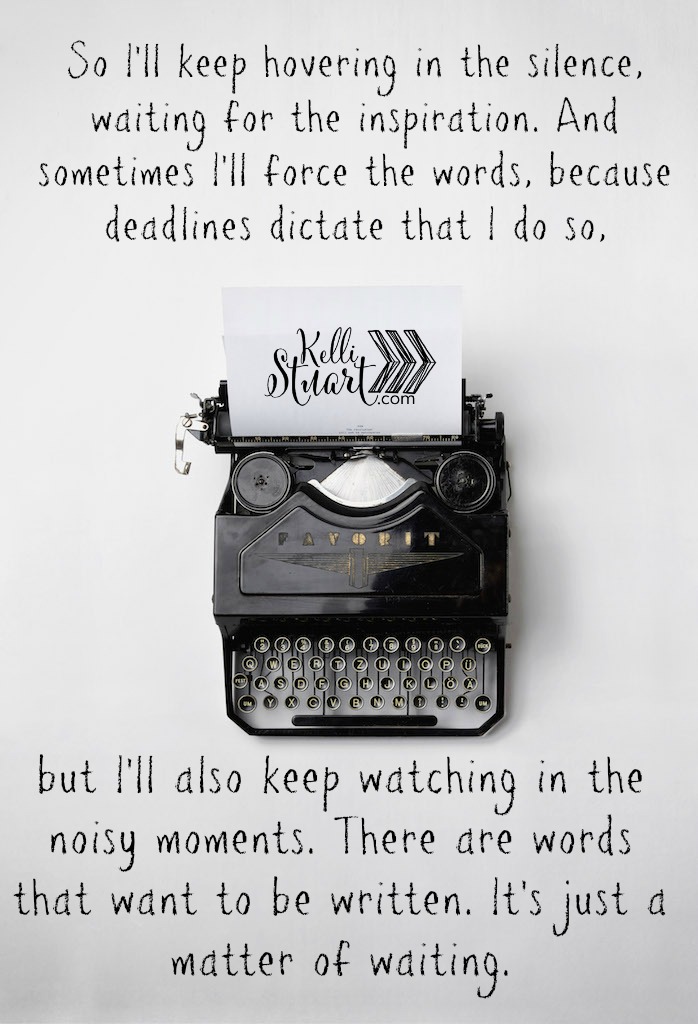 But then there's a little spark. Yesterday I passed a man on the side of the road. I pass him frequently, because he's always in the same place. Sloan sat beside me and pointed him out. "I wonder why he's always there," he said. "What's his story? He's always standing in that same spot with his bicycle, just watching the cars go by."
Just like that, a character was born, and my imagination felt a jolt. It was a small buzz, the kind that zaps you for a moment, then immediately stops. But it was enough to make my heart flutter, because it means there are still stories in there.
And in the fluttering, I remember that this time three years ago I was preparing to board a plane to Tanzania where I would tell, perhaps, some of the most meaningful stories of my career. I typed words that mattered, and I know that there are still stories waiting to be told.
Maybe I just need to be patient.
So I'll keep hovering in the silence, waiting for the inspiration. And sometimes I'll force the words, because deadlines dictate that I do so, but I'll also keep watching in the noisy moments. There are words that want to be written. It's just a matter of waiting.
So, writer friends, tell me: Do you ever feel a similar paralysis? How do you move past that feeling so that you can catch the waiting words?