Lee is out of town for four days. That's important to know before reading further.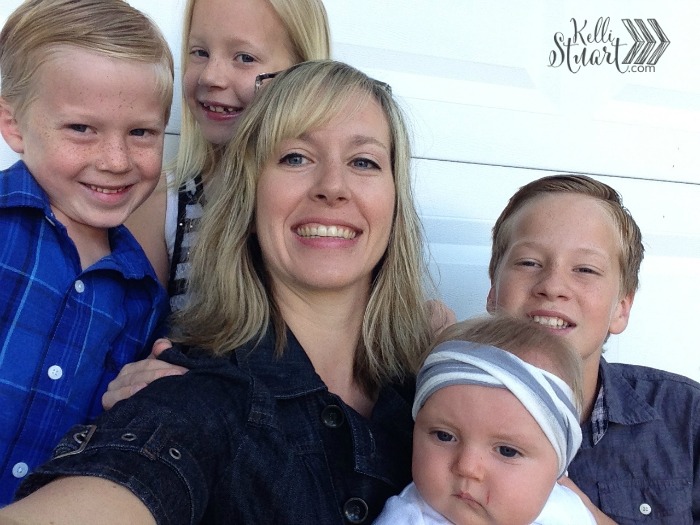 It started at midnight on Saturday night (Sunday morning?) when Tia came into my room complaining of a headache and stomach ache. I gave her some medicine, then nestled her in bed with me, and while she slept I stared up at the ceiling fan, mind spinning.
She's been complaining of headaches off and on for a week, coupled with a bloody nose now and then for good effect. By 1:00 am, I'd convinced myself that she was suffering from all manner of diseases, and I'd also run through the episode of Little House on the Prairie where Albert dies after a sudden onset of bloody noses.
I scooted closer to her to listen for steady rhythmic breathing, and I finally drifted into a fitful sleep around 2:00.
Annika woke me up at 5:30 ready to go. She was in no mood for more sleeping, so I finally resigned myself to a long day and dragged out of bed. I was leading worship at church, so I needed to have everyone ready and out the door by 7:45 anyway.
I showered, but didn't wash my hair because who has time for that, while they watched TV. Because it's easier to let them watch TV than to ask them to be productive.
After a bit of shoo-ing, and insistent hand clapping, I managed to get everyone into the car, dressed and semi-put together. We were half way out of the neighborhood when Landon spoke.
"Mom, I'm hungry. I didn't get breakfast."
I cracked open a box of donuts at church and shoved one in his mouth…and my own because I didn't get breakfast either. I let Annika take a bite of my donut because she stared at it so intensely I couldn't say no. Did that donut contain peanuts?
No idea. Maybe? She survived, so we're good.
I asked Tia if her head still hurt and she said no, so I'm glad I lost a night of sleep over my unfounded fears.
DARN YOU, LITTLE HOUSE ON THE PRAIRIE!
I put my nine and seven year olds in charge of watching their sister while I practiced for that morning's service, and I left my eleven year old in the church kitchen alone to work with scalding hot liquid as he prepared the pots of coffee that would be waiting for everyone when they arrived.
Minutes before church started, Landon leaned over to show me one of his teeth twisted around and stuck in a stomach wrenching position.
"Can I go pull it?" he staged whispered. I nodded, and I sent Tia to the bathroom with him to help. Together they worked the tooth out in the church bathroom, and he returned to the sanctuary with it in a little baggie. Then he spent the next ten minutes dabbing the hole in his mouth with his finger and showing me the blood.
Jesus be near.
After church, we came home and as I set Annika on the floor I caught sight of a lizard scurrying across our floor. He's been hiding in the house for days, but he's an elusive little bugger. Also, he's not so much a lizard as he is a small, black dragon. He somehow manages to disappear every time we go hunting for him.
I feel semi-certain that he is hiding inside one of our chairs, but I try not to think about it for very long, otherwise I start imagining him creeping up behind me while I watch TV and karate chopping my neck, knocking me unconscious, then taking over the house and inviting in all his Rambo lizard friends.
 Clearly I need more sleep.
The kids spent the afternoon in the pool, and I forgot to put sunscreen on them, so they got sunburned.
Landon asked to play the game of LIFE with me while his brother and sister played at friends houses. I obliged, and despite actually trying to lose, I still managed to beat him by about $250,000. (If you know Landon, you'll understand why sometimes it's easier to just let him win rather than deal with the consequences of him losing). He cried, and I sighed.
And while we played, Annika managed to find a stray piece of paper on the floor, which she ate a portion of before I discovered her and dug it out of her mouth.
I fed them leftover meat and stale chips for dinner, and at 6:00 realized Annika hadn't had any solid food all day. Sundays are hard, and schedules are off, so she'd only had bottles. No wonder she was watching us eat like a rabid Velociraptor.
I put them all to bed dirty, and just as I turned out their lights a thunderstorm rolled in, and everyone came tearing out, eyes wide, full of fear, because my first born has conditioned the other two to believe that any cloud that produces lightening is a funnel cloud.
I promised them that if any of the clouds started spinning, I would retrieve them from their beds and we'd take shelter in my closet. Then I sent them back to their bed despite their tears and protests. Meanwhile Annika screamed in her crib because she took such a long, late afternoon nap that she was absolutely not tired at 7:30. I put her to bed anyway, because I was tired at 7:30.
Finally, blissfully, they all fell asleep. By 10:00, it was silent in my house. I fell into bed, and let slumber wash over me. While I slept, I dreamt I was on a Merry-Go-Round that started spinning uncontrollably while a woman with a raspy voice barked instructions repeatedly over the loudspeaker in German.
I interpreted her yelling to mean I should hold on tight.
When I woke up I was clutching my pillow, clenching my jaw, and the room was spinning.
Four kids, y'all.
I'm nailing it.