She crawls out of bed, her feet padding lightly against the cold, tile floor. Moving almost silently past closed doorways, she holds her breath hoping that the simple increase of her heartbeat doesn't somehow rouse the little ones from their own needed slumber.
She pulls boots onto her feet because the winter air leaves her chilled. For a brief moment, she considers crawling back beneath her warm covers, the thought of snuggling deep down into her bed wrapping itself around her in tendrils of desire.
Instead, she takes a deep breath, grabs a glass of water, tosses a longing look at the coffee pot that she can't yet turn on for fear of waking anyone up, and she sits down. It's time to work. This is the only time work.
And work she does.
I've spent the better part of the last year watching and observing how creative women merge their art with motherhood. It's such a beautiful, messy blending together of two callings isn't it?
In the past few months I've been asked several times, "How do you do it? How do you find the time to write with kids around?"
My answer? I don't really know – I just do it.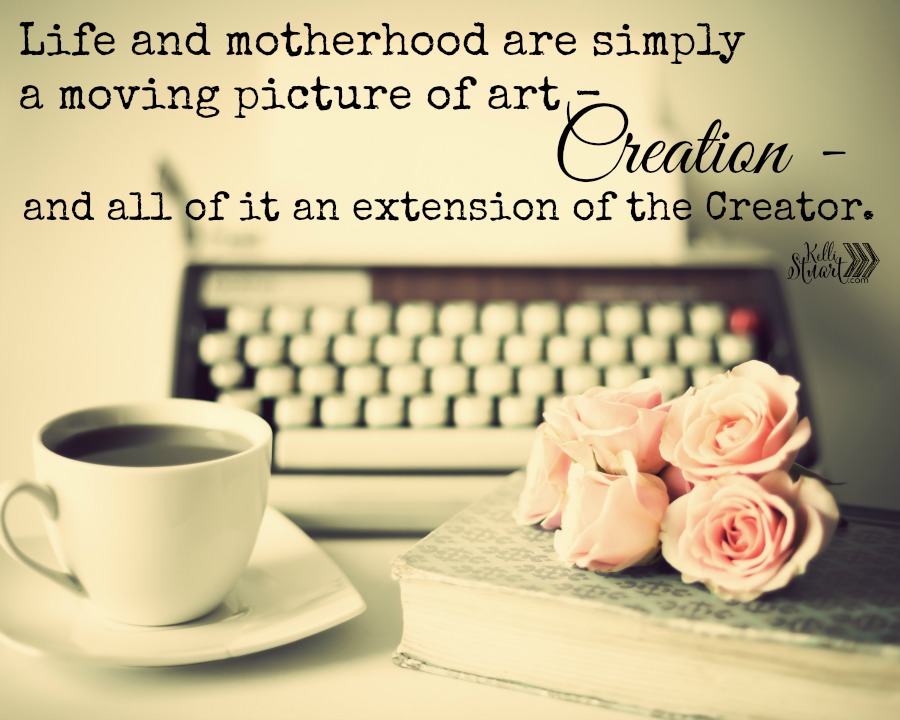 There are so many books out there offering tips on time management. We could all probably share the many bits of advice we've been given or read for building a business, generating a successful brand, or creating a successful work environment. The pointers and tips are thorough, and I've no doubt they're effective.
To be a writer, you must write every day.
To build a successful brand, you need to constantly engage in your arena of expertise.
A painter needs to paint, then share her work.
A baker needs to spend time in the kitchen experimenting, developing, and perfecting her craft.
Only…what about the children?
Some of us have a few sacred moments of quiet built into our days. The children head off to school, and for several blissful hours the house is quiet. That doesn't, however, make fitting creativity in any easier because there's still the issue of setting the time apart.
There are always a thousand things for mom to do on any given day, even with the children in school. There are field trips to chaperone, homes to clean, meals to prepare, and a myriad other things that beg of her time.
Finding the time to create takes discipline, even when the quiet hours stretch long.
Many of the creative mothers I've observed and spoken with in the last year, however, don't have those extended slivers of time alone. They're mothers of very young children, fitting art into the cracks of their days.
They're homeschool moms piecing creativity in the crevices while the kids are at "recess", eating lunch, or reading a book. They're simply fitting it in where they can.
I have a book coming out later this year, co-authored with Wendy Speake, in which we offer a glimpse into the lives of these beautiful, amazing, successful creative mothers. It answers the question "How does she do it?" but even more than that, it answers "Why?"
Why do we forgo that extra hour of sleep to tap away on the computer?
Why do we slip away each day while the children are at school and put paint brush to canvas?
Why do we study the art of photography and dedicate ourselves to capturing the beauty of the world through a lens?
Why do we find joy in helping others decorate their homes, pulling together spaces that bring joy and peace?
Because the truth is we can't really answer the question "How" without also addressing the "Why." The two go hand in hand, and they have to be examined simultaneously.
In this present digital age, we have the ability to enter right into the living spaces of women around the world. Women are showcasing the beauty and the glory of life and art and motherhood in their online spaces, and the picture of it all is stunning. Because the truth is, it's all art.
Life and motherhood are simply a moving picture of art – creation – and all of it an extension of the Creator.
[Tweet "Life and motherhood are a picture of creation-an extension of the Creator."]
So it is that in the midst of all that living and mothering, women are showcasing their art, and it is worship. Every bit of it.
So how do I do it? How does she do it? How do any of us do it?
We get up, pad across the tile floor, blink the sleep from our eyes, and we give in to the call to create. There isn't a one size fits all formula. There's simply an acknowledgement that this is what we do. It's life.
And all of it is art.