When I first visited Kiev, Ukraine, I had no idea the magnitude of what they suffered during World War II. As a teenager, I knew very little of the impact of those dark years beyond my borders. Raised with the many stories of our own troops fight for freedom, it never really occurred to me that other countries were impacted far more greatly.
We ambled up a sidewalk one chilly afternoon in March, following our translator, a woman who would later take me into her home for a time and let me call her friend. We stepped up to the monument commemorating the fallen and waited, our breath making small puffs in the cold air.
"This is the site where everything changed for my great-grandfather," Alyona told us. "In this place, he saw things that you and I cannot even imagine. He never really spoke of that day to us, but my grandmother told me that he was never the same when he returned home."
Alyona's grandmother, Maria Ivanovna, would later give me the gift of her story. She trusted me with a small piece of her history, and in so doing, she exploded the borders of the world for me.
Maria's father, Ivan, was mistaken for a Jew on September 29, 1941, and herded into line with thousands of other men, women, and children, pushed to the outskirts of town, and forced to stand at the edge of the ravine at Babi Yar. By the end of the day on September 30, 33,771 Jews had been brutally slaughtered, bodies piled high inside the gulf the split the land.
Ivan survived.
Just before the gun fired, he collapsed into the ditch where he lay for hours as bodies buried him alive. Under the veil of night, he crawled out.
I will never understand the horror of those days, but I will forever admire the strength and dignity of the men and women who walked through them. In my upcoming novel, Like a River From Its Course, I base many of the characters off the stories of the men and women I met in my years of research.
I pray I've honored them well.
In the next couple of weeks, I will be sharing a few excerpts from the book with you, along with some background on how these stories came to be. Today, I share an excerpt from the book in which the character, Ivan Kyrilovich, survives the killing ditch of Babi Yar.
For more information on the book, visit the book page where you'll find more links to some of the history that inspired these stories, as well as Pinterest-worthy images, and links where you can preorder your copy!
Be blessed, friends.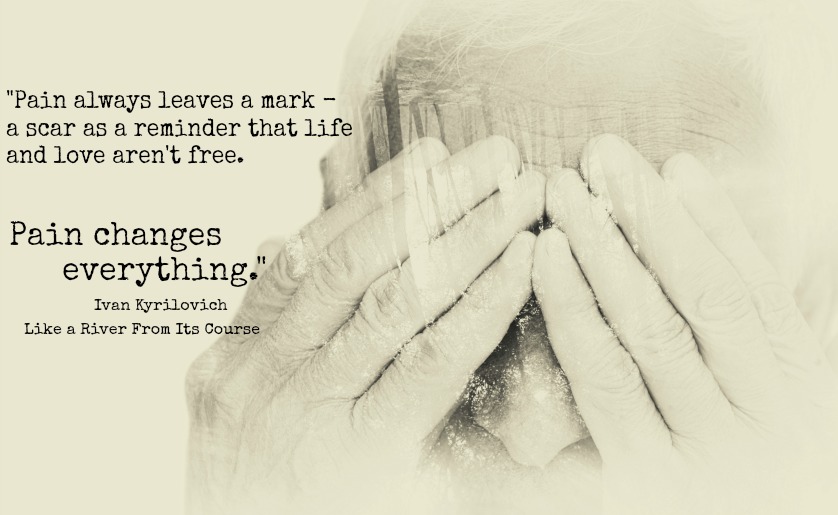 Like a River from Its Course: An excerpt

Ivan Kyrilovich

"Entering the killing zone is more horrifying than I imagined. Marching in a single-file line, our dignity stripped bare, we slowly wind our way up the small incline to the top of the death ditch.

I try not to look at them, the men and women below, their limbs all tangled in a mass of grief and horror. But the image is too great, so my eyes slowly lower, and when I finally see, my lungs constrict.

The bodies—all intertwined and twisted, thin arms and legs woven in and out in a pattern of heartache—they are the worms I see in my dream.

The sounds around me separate from one another. I hear every movement: the crunch of dying grass beneath trembling feet; the quiet sobs of those resigned to fate; my own hollow breathing as I fight suffocation; Klara whispering her daughter's name over and over like a lifeline.

"Polina. Polina. Polina."

I hear the click of German guns as many of them reload, the clanking sound of metal entering chambers. The easygoing banter of the soldiers across the ditch, as if today were just another day at a menial job. All of the sounds reverberate through my mind.

It isn't just the sounds that magnify. I'm keenly aware of everything. The way the sunlight dapples through the trees, casting brilliant shapes and shadows across the open fields. The warmth of this Baba Leta day on my exposed flesh, fighting against the inner chill that leaves me raw.

I watch a black bird drift through the sky, his wings spread in freedom, gliding through the air without fear. He doesn't flap his wings, nor does he fight the current of the breeze. He catches it and rises suddenly, sus- pended for a brief moment before leaning to the side and riding the wind to a nearby branch.

All of these things pass through me in an instant, and then it's over. A German command brings the soldiers forward, their dusty caps set high on their foreheads. It is then that I see him.

He walks briskly down the line to the man stationed across from me. It's the steely-eyed killer who pushed me into line, the same boy who killed the woman in the fur coat. Leaning forward, he whispers in his comrade's ear. The soldier glances in my direction, shrugs his shoulders, and steps back, letting the boy with fire in his eyes take his place. I feel the heat, and in my final moments grow emblazoned.

Looking back at him from across the killing ditch, I stare straight into his eyes, feeling a surge of hatred that surprises me.

Ready!

The first command rings out, bursting through the air with a measure of indifference.

Set!

"Get ready, Polina," I whisper as the Germans raise their guns. Though we're separated by a ditch, I look directly into the barrel before me. It's black and cavernous and threatens to swallow me whole. I taste metal, and my ears ring as I await the final command.

Aim!

I wait a beat, then yelp, "Now!" I grab Polina's hand and crumple just as the shots burst through the air."

©Kelli Stuart, 2016
[Tweet "Like a River From Its Course, the debut novel by @kellistuart, is now available for preorder! http://amzn.to/1WO5HPB #RiverNovel"]