We sat around a long table inside a very small room. It was hot and loud, all the sounds and smells mixing together in a cornucopia that threw my senses into overload.
They'd made pizza for me, because I'm American and they felt pizza would be a comforting reminder of home.
They weren't wrong.
I'd been invited to this private meeting because I'd shown such an interest in Maria's story. I'd peppered her granddaughter, Alyona, with so many questions that she finally offered to bring me to her grandmother so I could ask my questions in person.
As soon as I met Maria, I fell instantly in love, and it wasn't hard to see why. She was a small woman, her bright silver hair pulled back into a loose bun. Her blue eyes sparkled when she spoke, and the lines that crinkled her face revealed years of tenderness and laughter.
Her family called her Baba Mysa, an affectionate term combining the tender form of "grandma" with a word that translates "little fly." When Baba Mysa spoke, the room got quiet. We wanted to hear what she had to say, wanted to soak up her grace and wisdom.
As I wrote my story, I knew I wanted to tell Maria's story, but I also wanted to honor the Maria that I knew – the grandmother who exuded warmth and strength. I wanted readers to know both versions of the same woman.
The character of Maria Ivanovna is loosely based on my Maria's story of survival during those dark years in the war. But the character of Baba Mysa is based upon the older, wiser Maria who gifted her story to me.
And I fell madly in love with this character.
Baba Mysa's background and story is entirely fictional, but her mannerisms, humor, and strength are not. Baba Mysa exudes dignity, hope and survival. I adored writing this character because through her I was able to honor the woman who endured indescribable hardships and refused to dwell on them.
Today, I'm sharing a brief excerpt from my upcoming novel, Like a River From Its Course. In this section, Baba Mysa is sharing her story with Luda, encouraging her not to get wrapped up in the pain of the past, but to dwell in the beauty of the present.
For more information on the book, visit the book page where you'll find more links to some of the history that inspired these stories, as well as Pinterest-worthy images, and links where you can preorder your copy!
Be blessed, friends.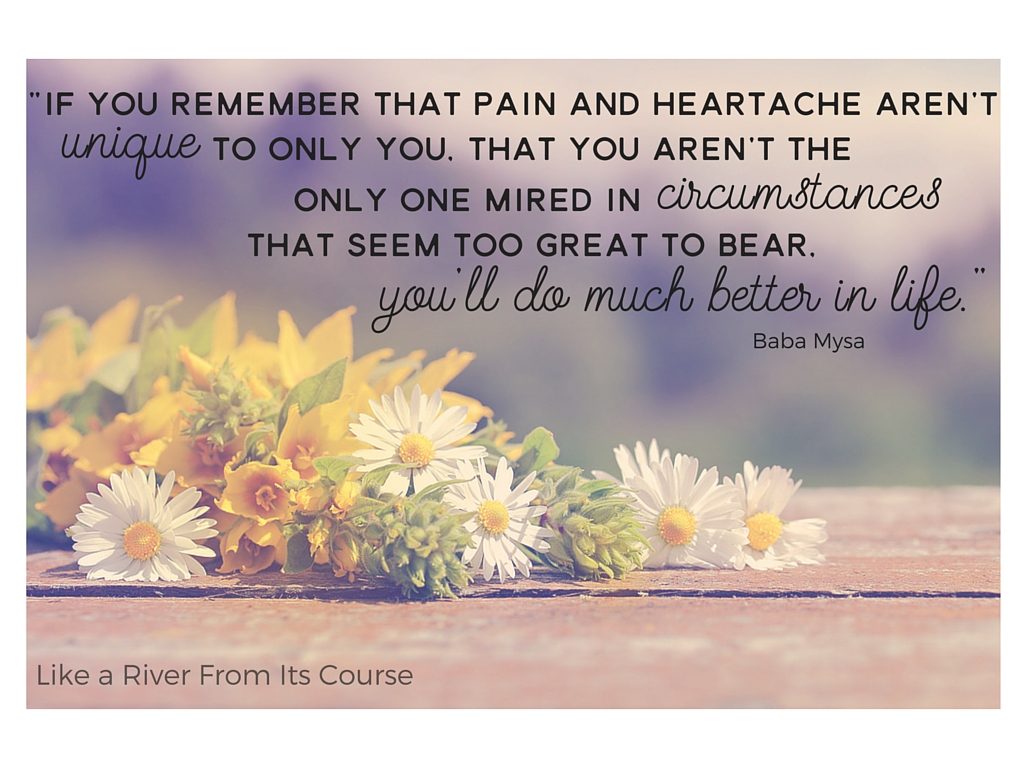 Like a River From Its Course: An Excerpt – Baba Mysa

Baba rocks slowly and rhythmically back and forth in her rocking chair, her hands moving in perfect rhythm. The yarn begins to take shape, a perfect hat for Sasha's tiny head.

"I want to tell you a story, Luda," she says. Her voice is soft and warm. I sigh as I melt back into my chair nodding my head in concession.

"I was born a long time ago, deep in the heart of Ukraine. My father was a farmer, and my mother was his strong and doting wife. I grew up among the rows of wheat and vegetables that my father grew."

Setting her work in her lap, Baba Mysa leans back and a serene look overcomes her face.

"I can still smell the scent of the cherry trees that surrounded our small country house. I feel the cool air of fall and remember every bit of peace as I walked along behind my father through the rows of potatoes. Everything about that time was simple and sweet."

She pauses, and I look at her impatiently. I enjoy hearing a bit about her childhood, but I don't understand what she's trying to communicate.

"When I was ten years old, my father took me into the fields to harvest the potatoes. For hours, we pulled plants from the ground and filled baskets, which we lined up in a long row at the edge of our field. My parents would clean the potatoes later in the day and sell most of them in the local market. At least, that's what they did every year before this one."

Baba Mysa's voice trails off, and I study her face. Her eyes are bright and clear as she stares hard at the wall, the memory playing out before her on an invisible stage.

"On this day, as father and I neared the last row, he told me a joke. I don't remember what the joke was, but I wish I did, because those were the last words he ever spoke to me."

My eyes focus in tight as I absorb the shock of her story. Her eyes remain still on the wall, wide and pained.

"As I laughed at his silly words, a man on a large horse rode quickly up to us. He shouted something about danger coming and told us to run. My father told him to take me, and the man scooped me up and fled with me. My last vision of my father is the sight of him standing in the fields, covered in dirt, his arm up in a solitary wave good-bye. I never saw him again."

It's quiet for some time as I process Baba Mysa's story. She wipes her eyes several times, and I don't speak in order to give her time and space. After a few moments, I finally work up the courage to say something.

"I'm so sorry, Baba," I say quietly. "I'm so sorry you had to go through that terrible ordeal. But . . ." I pause, unsure of how to proceed without sounding harsh. "I'm just not sure I understand what that story has to do with me," I say, and then I cringe. The words sound so selfish coming out of my mouth, and I immediately regret them.

Baba Mysa turns her head and studies me closely. She nods in approval at my acknowledgement of, and reaction to, the selfishness in my statement and she waits a beat before responding.

"It has nothing to do with you, child," she says firmly. "But you can learn from it." I nod and wait for her to continue, figuring it's best to remain quiet at this point.

Baba Mysa sighs, and her fingers begin moving in and out of the yarn on her lap once again. "Life is full of heartache and hardship," she says. "Very rarely will life make sense, and it will almost never seem fair. But if you remember that pain and heartache aren't unique to only you, that you're not the only one mired in circumstances that seem too great to bear, you'll do much better in life."

©Kelli Stuart