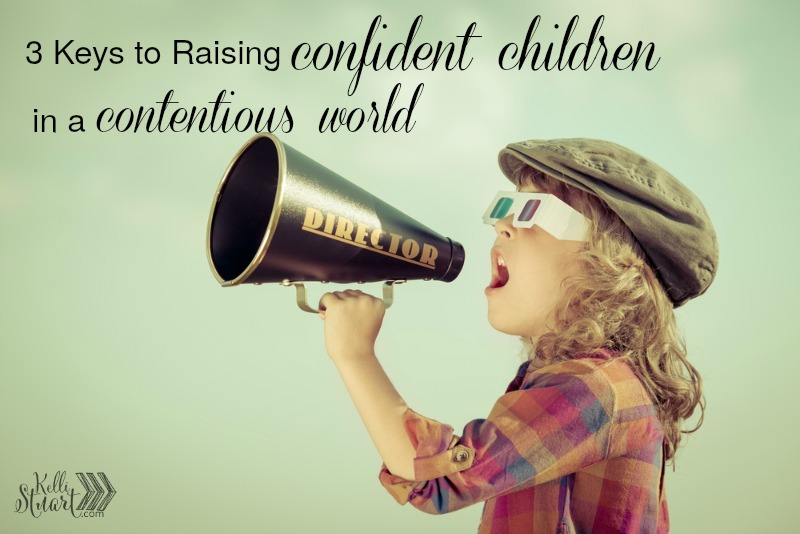 We are now one month into Donald Trump's presidency, and it has been a heckuva ride so far, hasn't it? The world is alive with noise right now, everyone jockeying to make their opinions known, fighting to prove their "rightness" and everyone else's "wrongness."
And along for the ride, bouncing in the wake of this political madness, are our children. Young and old, they're watching and listening, and make no mistake, they are trying to figure out their place in this crazy world.
I've seen a number of disturbing posts and articles from parents lamenting their fear at raising children under a Donald Trump presidency. While I can certainly empathize with these sentiments, the truth is they baffle me.
Parents, why are we afraid? Now is not the time for fear, but for action, and what better way to exact change in this world than by raising strong, confident children who care well for the needs of others?
Here are 3 Keys to Raising Confident Kids in a Contentious World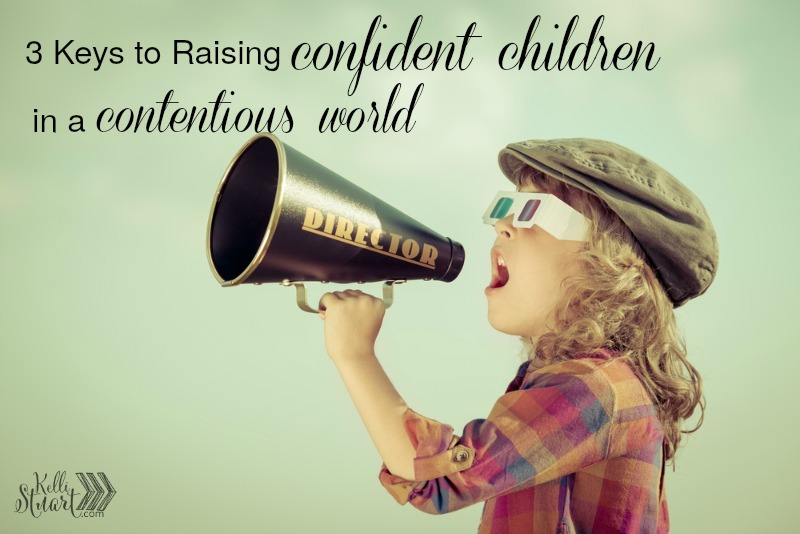 1.) Have Age Appropriate Conversations About Politics
My seventh grader is currently learning about Individual and Civil Rights in his Civics class at school.
"I have the right to say whatever I want!" he boldly proclaimed at the dinner table the other night. "It's my freedom of speech. I can say anything because it's my natural, individual right."
Ah, seventh grade is fun, isn't it?  Sometimes I have to remind myself of how cute he was as a toddler so I don't throttle him now as a teenager.
"Yes," I responded, my voice sugary sweet. "You do have the right to say what you want. And I have the right to take your phone away if I deem your speech hurtful or inappropriate."
I had to bite my lip to keep from ending my comeback with a good old fashioned, "BOOM! Take that sucka!"
Because my first-born is older now, we're able to have deeper conversations about what's happening in the world and how we should be responding. He's privy to a little more information because he's old enough now to process it, and to dialogue with us through it all.
My nine-year-old, however, is still a little boy. He doesn't need to hear everything that I perceive to be wrong with our nation and the world. He's not ready to process that information, so I don't share my every concern with him.
Our kids are bombarded with enough messages on a day to day basis. Let's not fill them with undue and unnecessary fears over political messages that we may or may not agree with.
2.) Teach Them to Be Kind
Most parents are already doing this. It's a pretty second nature response when we have children. From a very young age, we admonish them to share with others, to speak kindly, to treat one another with gentleness, and so on.
That training has to continue, though, and as the children grow into young people we need to change our tactics.
We need to be teaching our older children to be kind to those who may think or feel differently about things than they do. Basic kindness may already be ingrained into their youthful hearts, but grace toward others is a skill that needs to be honed over a lifetime.
Today's youth are bombarded with messages from the world, and social media takes the nuance out of difficult discussions. We need to work with our kids to help them navigate conversations, both online and off, with kindness.
3.) Show Don't Tell
When I was a senior at Baylor, I took a class called Writing for the Popular Market. Our only assignment for the year was the write the first draft of a novel.
Every week, we met at a local coffee shop (there were only six of us), and we exchanged papers, reading and editing one another's stories. And over and over in the editing process, our professor would repeat the same basic principle of writing:
Show, don't tell.
Don't just tell the reader what happened, show her. Give her the action that paints a mental picture.
The same is true for parenting. We can talk to our kids until we're blue in the face, but our actions will have a greater impact than our words.
So let's show them how to care for others, how to put the needs of our neighbors (both near and far) above ourselves.
Raising children in this contentious time feels like a gigantic hurdle, but really this time is no different than any other in history. Now is not the time to fear for our children, but rather to dig in and fight for them. And that fight starts at home.
What are your thoughts? How are you working to raise confident children in a contentious world?