Last year, I posted this photo of a sign I hung on our laundry room door. It boldly proclaimed the plans for our Summertime Agenda of Awesome: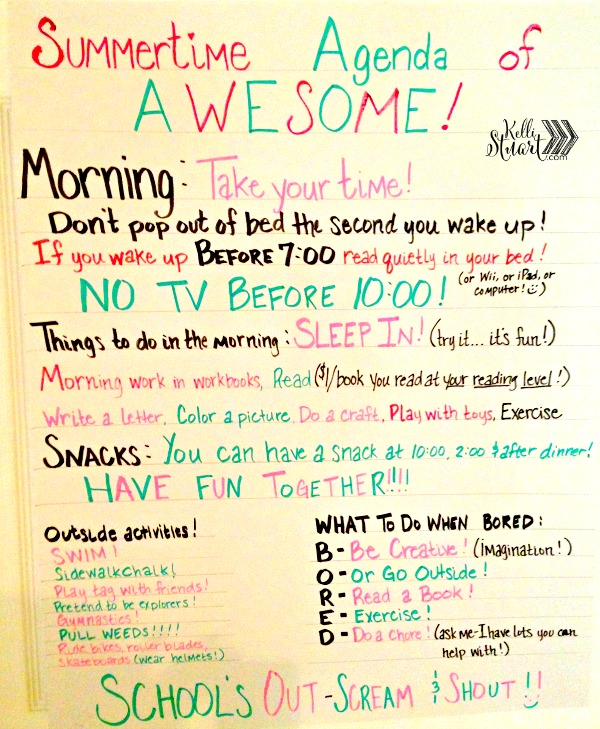 We really did have an agenda that was packed full of awesome last year, and this year proves to be shaping up nicely as plans are finalized, and preparations are made for trips and visitors.
But still, in the busy and the crazy and the constant Go-Go-Go of life, I want to make sure we take some time to just breathe. Because the temptation is to fill up every square moment of the days until suddenly school starts again, and one more summer is gone as life continues to chug full speed ahead toward kids graduating.
Sloan starts middle school next year.
Hang on. I need a moment to process what I just wrote.
Middle. Freaking. School.
We only have eight summers left before he goes to college. Eight summers left to make memories as an in tact family unit. Eight summers left to explore together while everyone lives under the same roof.
So I'm very conscious of the fact that we need to soak the days up for what they are. A treasured gift. Because some day these kids of mine will be grown and out of the house. And when they leave, I hope they'll look back on our summers with fondness. I hope the arguments and boredom, and the sense of insanity that always seems to trail behind us like a persistent breeze fade away, leaving nothing but a true sense of nostalgia.
So with that in mind, I'm busy planning this year's Summertime Agenda of Awesome, and I thought I'd share a few suggestions for all of you so that you could plan your own awesomeness.
1.) Limit technology
Oh, it's a temptation to let them park in front of the TV and lay around the house, and there are certainly times for that. But summer is also about swimming and basking in the hot sun. It's is for lemonade and cookies, and falling into bed tired and exhausted after a long day of playing.
Set limits on television and electronics usage, and stick to your guns. The kids will try to talk you out of the limits, and they'll make persuasive arguments that will sound good when you're feeling exhausted, but don't let them wear you down! Offer a lot of alternatives to technology to help them learn to entertain themselves as the lazy days stretch out slowly.
2.) Let them sleep in
Friends, I say this as one who has children who are loathe to sleep late. While there are perks to having early risers (namely getting them out the door during the school year is a breeze), in the summer it is less thrilling to hear them rummaging through the kitchen at 6 am.
So, if you have sleepers, let them sleep in (within reason) as often as possible. And if you don't, like me, then you'll simply need to plan on drugging your kids so they sleep longer.
I'M KIDDING!
(Unless that's a possibility, in which case I might not be kidding…)
3.) Stockpile their rooms with books
Make it a habit to visit the library weekly and bring home new books. Because I have children who don't love reading, I bribe mine to read. They get 1-2 dollars/book depending on length and difficulty. (I might even be inclined to pay more if they read a really hard book, but I've never had to cross that bridge.)
Maybe you have strong readers and paying them per book would bankrupt you. Perhaps you put pay them for the number of pages they read (set the number high for the avid reader). Or perhaps you simply offer a fun excursion at the end of the summer if they reach a certain goal.
Whatever you choose, make reading a summer staple, and teach them the art of relaxing with a book rather than relaxing with an iPad. (Hint: You'll need to lead by example on this one, mom. Stock up your own pile of books as well.)
4.) Plan fun activities
Summer doesn't have to break the bank. You can find enjoyable summertime activities right in your own backyard if you're willing to do a little research.
You can also add fun items to the list like painting together (buy up a bunch of paper and water color supplies before school ends and set it in an accessible place), set up a lemonade stand and help the kids raise money to give to a worthy cause.
Let them each pick out a recipe from one of your cookbooks and give them full reign over the kitchen (or age appropriate reign over the kitchen).
There are so many possibilities for summer. When your days stretch from minute to minute, rather than the more hectic hour to hour of the school year, the time to create lasting memories is ripe for the taking.
Of course, the greatest agenda in the world will not prevent those dreaded words of "I'm bored" from slipping out of your children's mouths, but at least when you hear them you can gesture to the sign on the door and let it be known you've done your part in helping them occupy their time.
The rest is up to them.
*wink*