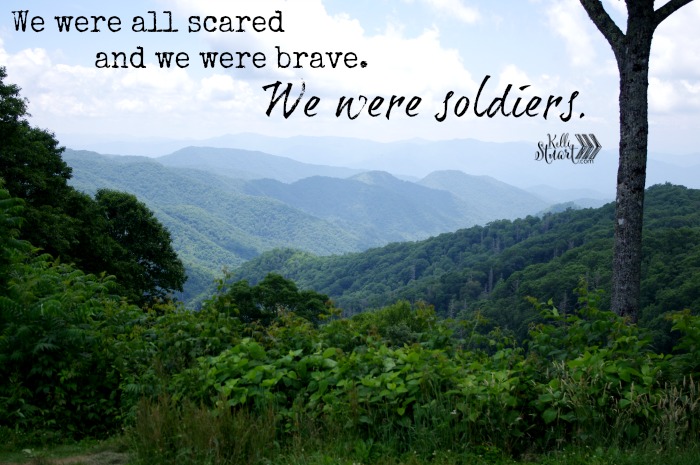 The sky was grey the day I met him. It was 2003, and I was in Kiev, Ukraine looking on a quest to speak with the men and women who'd fought valiantly in "The Great Patriotic War."
Leonid sat behind his desk and looked at me warily, not generally accustomed to people wanting to hear his story. His back was bent, his face bearing the lines of one who'd lived through hell on earth. Through the translator, he asked one simple question.
"Why do you want to know?"
I was a 24 year old pregnant American in Ukraine with a thirst for history. I wanted stories. I wanted to hear them and to tell them. But this man – this man had lived the stories. They weren't romantic, and they certainly wasn't as neat as most movies had made them seem. Leonid's history was alive with the sounds of men dying. He could smell the gunpowder and fear, all mingled together in a story of heartache.
He was a veteran.
The men and women who lived this history are slowly fading into the past. Their stories are all we have left, and we must be willing to listen. We must gather them, and preserve the words if we cannot preserve the sights and sounds. This is why I continue to search for the right publisher for my novel. Because I believe the stories must be told. 
We must continue to write books and make movies so that these veterans will understand that we want to know because we want to honor them. And for the men and women who are serving today, the ones living new stories, fighting against our own modern day terrors, we must show them that we respect their sacrifice. That their stories are worth hearing and telling and honoring, too.
"Why do you want to know?" he asked.
"Because I believe your story is worth telling," I told him.
His eyes glistened and he leaned back in his chair, folding his hands gently in his lap. He took a moment to gain his composure before speaking.
"I was 16 when the Nazi's invaded my country. My father went to the front immediately and died very quickly. Though I was not yet old enough to enlist, the Red Army allowed me to fight as a volunteer. When I was 17, I entered the front lines.

The men in my unit were not much older than me. They were 18-25 years old, all of us boys. We were afraid, but we had courage in our hearts.

There are a lot of stories I could tell you of those years, but I won't tell you all of them. Most are too painful. I do remember one evening, though. It was near the end of the war, and we knew that we were winning. We were in Russia at this time, and the winter months were finally ending. It was still cold, but we could feel spring coming. We were by the fire after another long day of walking. We hadn't seen battle that day, but we knew we could meet a fight at any time. That was part of the fatigue, knowing that we would run into the battle at any moment.

We heard a sound coming from the trees behind our camp and we all stood up. I remember my heart beating so fast I could hardly breathe. A man shouted from the darkness in a language I recognized, but didn't understand. He was speaking English.

My friend, Pavel, spoke English and responded. He told us to put down our guns because these men were friends. 

The Americans sat with us by the fire that night. They gave us cigarettes and vodka. I didn't understand the conversation, but I remember the camaraderie we all felt. We were different, but we were also the same. We were young men who had survived. We had seen the very worst of mankind, and the very best of mankind. We were all scared, and we were brave.

We were soldiers.

They left the next morning, and not many months later we got news that Hitler was dead. This is the story I want you to know. I want you to know that those years were dark and painful, but there were good things that happened, too. I will always remember that night when I sat with friends from another land.

These are the stories you should tell. Thank you for listening to me."
To all the veterans who have served in the fight against oppression, I thank you. And to the men and women serving now, I am so very grateful. Your story matters today, and it will matter fifty years from now. Thank you for your sacrifice.
Happy Veteran's Day.