(Released June 2016!) Based on true stories gathered from fifteen years of research and interviews with Ukrainian World War II survivors, Like a River From Its Course is a story of love, war, heartache, forgiveness, and redemption. Preorder your copy today!
About the Book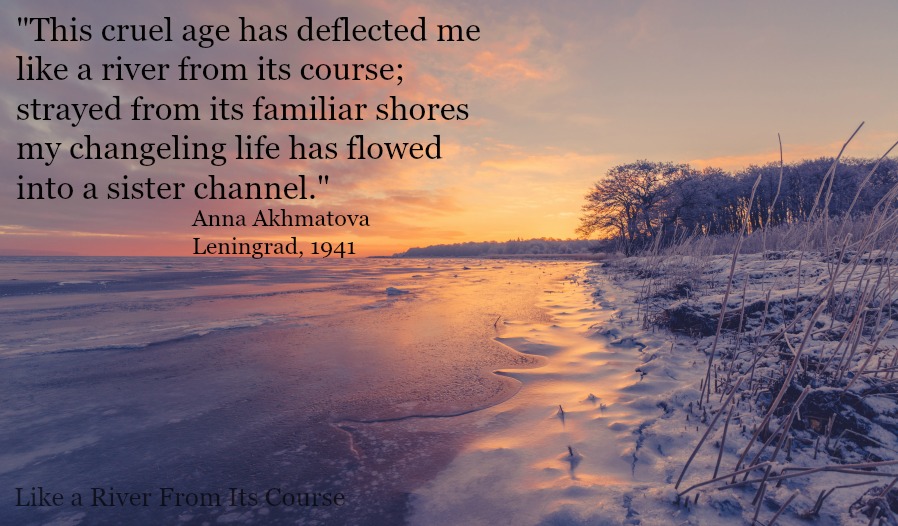 Kelli Stuart's Like a River From Its Course has been critically acclaimed and hailed by readers as one of the best books of the year, and it is a finalist for the ACFW Carol Award in historical fiction. Labeled "powerful and engrossing" in a starred review by The Library Journal, and "gritty and touching" by Publisher's Weekly, Like a River From Its Course invites readers into the unknown history of Soviet Ukraine.
The city of Kiev was bombed in Hitler's blitzkrieg across the Soviet Union, but the constant siege was only the beginning for her citizens. In this sweeping historical saga, Kelli Stuart takes the reader on a captivating journey into the little-known history of Ukraine's tragedies through the eyes of four compelling characters who experience the same story from different perspectives.
Maria Ivanovna is only fourteen when the bombing begins and not much older when she is forced into work at a German labor camp. She must fight to survive and to make her way back to her beloved Ukraine.
Ivan Kyrilovich is falsely mistaken for a Jew and lined up with 34,000 other men, women, and children who are to be shot at the edge of Babi Yar, the "killing ditch". He survives, but not without devastating consequences.
Luda Michaelevna never knew her mother. Growing up with an alcoholic father, Luda is only sixteen when the Nazis invade, and she's brutally attacked due to her father's negligence. Now pregnant with the child of the enemy, she is abandoned, alone, and in pain. She must learn to trust again and find her own strength in order to discover the redemption that awaits.
Frederick Herrmann is sure in his knowledge that the Führer's plans for domination are right and just. He is driven to success by a desire to please a demanding father and by his own blind faith in the ideals of Nazism.

Based on true stories gathered from ten years of research and interviews with Ukrainian World War II survivors, Like a River From Its Course is a story of love, war, heartache, forgiveness, and redemption.


The Huffington Post
In the months leading up to the book's release I've had the privilege of sharing many of the back stories from the book, as well as other stories from Ukraine, on The Huffington Post. These posts give context to the stories in the book.
In Ukraine a War Rages on, and America Should Care
How a Girl Tricked the Nazis and Redefined Bravery
In the Face of War, Beauty Reigns
How a Ukrainian Mother Taught Me to be Brave
How to Sell Fiction in a Cutthroat Publishing World
A Gorilla Died and We Forgot to be Human
In the Wake of Orlando, Will We Let Evil Win?
75 Years Later: What the Past Teaches Us Today

What people are saying about Like a River From Its Course



 
Help spread the word!
It takes a village to launch a book, and you dear readers are my village. Here are a few tweets that I would love (LOVE) for you to share as we together bring this book to the world!
Thanks in advance!

Put a Pin In It! Pinable Images for #RiverNovel
SaveSave
SaveSave
Disclosure of Material Connection: Some of the links in the page above are "affiliate links." This means if you click on the link and purchase the item, I will receive an affiliate commission. I am disclosing this in accordance with the Federal Trade Commission's
16 CFR, Part 255
: "Guides Concerning the Use of Endorsements and Testimonials in Advertising."